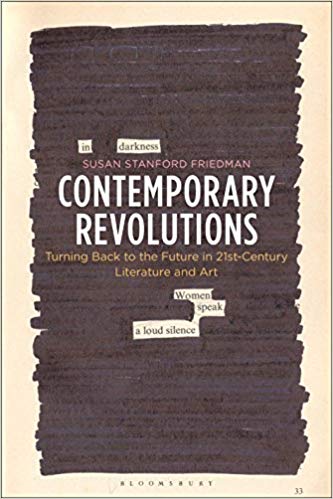 Friedman (1943-2023) (Editor)Susan Stanford. Contemporary Revolutions: Turning Back to the Future in 21st-Century Literature and Art. Bloomsbury Academic, 2018. Print.
Returning to revolution's original meaning of 'cycle', Contemporary Revolutions explores how 21st-century writers, artists, and performers re-engage the arts of the past to reimagine a present and future encompassing revolutionary commitments to justice and freedom. Dealing with histories of colonialism, slavery, genocide, civil war, and gender and class inequities, essays examine literature and arts of Africa, Europe, the Middle East, the Pacific Islands, and the United States.
The broad range of contemporary writers and artists considered include fabric artist Ellen Bell; poets Selena Tusitala Marsh and Antje Krog; Syrian artists of the civil war and Sana Yazigi's creative memory web site about the war; street artist Bahia Shehab; theatre installation artist William Kentridge; and the recycles of Virginia Woolf by multi-media artist Kabe Wilson, novelist W. G. Sebald, and the contemporary trans movement.
Read more