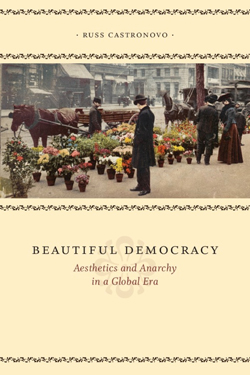 Castronovo, Russ."Beautiful Democracy: Aesthetics and Anarchy in a Global Era." 2007: n. pag. Print.
The photographer and reformer Jacob Riis once wrote, "I have seen an armful of daisies keep the peace of a block better than a policeman and his club." Riis was not alone in his belief that beauty could tame urban chaos, but are aesthetic experiences always a social good? Could aesthetics also inspire violent crime, working-class unrest, and racial murder? To answer these questions, Russ Castronovo turns to those who debated claims that art could democratize culture–civic reformers, anarchists, novelists, civil rights activists, and college professors – to reveal that beauty provides unexpected occasions for radical, even revolutionary, political thinking.
Beautiful Democracy explores the intersection of beauty and violence by examining university lectures and course materials on aesthetics from a century ago along with riots, acts of domestic terrorism, magic lantern exhibitions, and other public spectacles. Philosophical aesthetics, realist novels, urban photography, and black periodicals, Castronovo argues, inspired and instigated all sorts of collective social endeavors, from the progressive nature of tenement reform to the horrors of lynching. Discussing Jane Addams, W.E.B. Du Bois, Charlie Chaplin, William Dean Howells, and Riis as aesthetic theorists in the company of Kant and Schiller, Beautiful Democracy ultimately suggests that the distance separating academic thinking and popular wisdom about social transformation is narrower than we generally suppose.
Read more