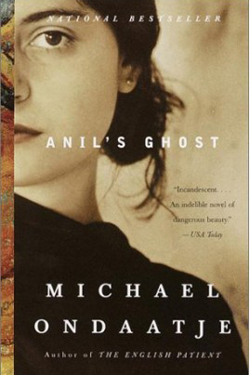 , Michael Ondaatje."Anil's Ghost." 2001: n. pag. Print.
With his first novel since the Booker Prize-winning The English Patient, internationally acclaimed author Michael Ondaatje gives us a work displaying all the richness of imagery and language and piercing emotional truth that we have come to know as the hallmarks of his writing.
Anil's Ghost transports us to Sri Lanka, a country steeped in centuries of tradition, now forced into the modern world by the ravages of civil war. Into this maelstrom steps Anil Tissera, a young woman born in Sri Lanka, educated in England and America, who returns to her homeland as a forensic anthropologist sent by an international human rights group to discover the source of the organized campaigns of murder engulfing the island. What follows is a story about love, about family, about identity, about the unknown enemy, about the quest to unlock the hidden past – a story propelled by a riveting mystery. Unfolding against the deeply evocative background of Sri Lanka's landscape and ancient civilization Anil's Ghost is a literary spellbinder – Michael Ondaatje's most powerful novel yet.
Read more