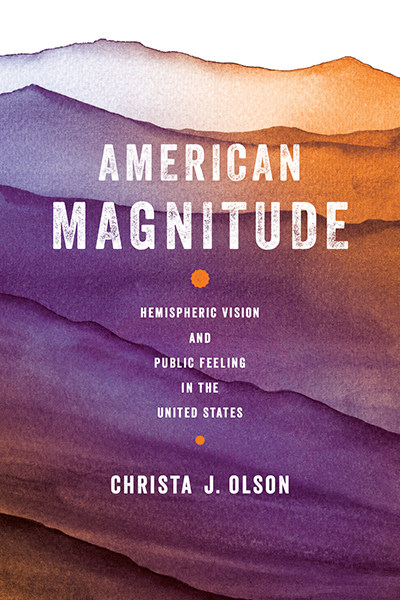 Olson, Christa J. American Magnitude: Hemispheric Vision and Public Feeling in the United States. The Ohio State University Press , 2021. Print.
At a moment in US politics when racially motivated nationalism, shifting relations with Latin America, and anxiety over national futures intertwine, understanding the long history of American preoccupation with magnitude and how it underpins national identity is vitally important. In American Magnitude, Christa J. Olson tracks the visual history of US appeals to grandeur, import, and consequence (megethos), focusing on images that use the wider Americas to establish US character. Her sources—including lithographs from the US-Mexican War, pre–Civil War paintings of the Andes, photo essays of Machu Picchu, and WWII-era films promoting hemispheric unity—span from 1845 to 1950 but resonate into the present.
Olson demonstrates how those crafting the appeals that feed the US national imaginary—artists, scientists, journalists, diplomats, and others—have invited US audiences to view Latin America as a foil for the greatness of their own nation and encouraged white US publics in particular to see themselves as especially American among Americans. She reveals how each instance of visual rhetoric relies upon the eyes of others to instantiate its magnitude—and falters as some viewers look askance instead. The result is the possibility of a post-magnitude United States: neither great nor failed, but modest, partial, and imperfect.
Read more