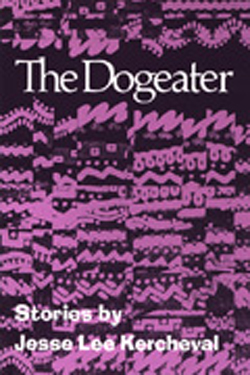 Kercheval, Jesse Lee. The Dogeater. University of Missouri Press, 1987. Print.
Winner of the Associated Writing Programs Award in Short Fiction
The stories included in the collection are  "Underground Women,"  "Willy,"  "A Clean House,"  "Tertiary Care,"  "La Mort au Moyen Age,"  "The History of the Church in America,"  "A History of Indiana," and the title story  "The Dogeater," about an elderly Igorrote man, living in New Orleans, who was originally brought to the United States as part of an exhibit for the 1904 St. Louis World's Fair.
"Underground Women," the first story in the collection, became the nucleus for The Museum of Happiness. It was also the basis of Paula Froehle's 2002 film.
Read more