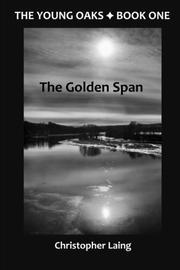 , Christopher Laing."The Young Oaks | Book One: The Golden Span." 2013: n. pag. Print.
Praise for The Young Oaks from Kirkus Reviews:
In a family saga that spans the 20th century, Laing provides an expansive portrait of American life on the Mississippi in this first of two volumes.
Willy McGregor, ignoring his father's advice, lies about his age to fight in World War I. But when he comes out the other side, aged and traumatized by the things he's seen and done, he finds himself lost, without a home. It's this setup—a broken warrior/poet in a shaken world—that gives the novel its potency. Much of Willy's story is familiar: He finds a new home, puts down roots, starts a family, and meets the many challenges of these and other milestones. But through it all, Willy's bone-deep knowledge of how frail happiness is shows through, even as he demonstrates a heroic tenacity for keeping its warmth alive. Willy's idealized vision of contentment can't last, but illness and loss make it shine brighter. Of course, the cycle of life doesn't affect Willy alone, and the rich cast of secondary characters gradually changes as Willy's children come of age and the focus of the story shifts. Eventually, Willy's grandson, Dan, takes over the narration, and the story grows more and more distant from the old, blessed years as the book approaches the modern age. The story unfolds as if told by a fireside, sometimes breezing over years in an instant and at others, lingering over the details of singular moments and memories ("a husband smoking his pipe and reading the paper while his wife knitted, their eyes meeting for a moment, a warm connection, a glimpse of their palpable love"). As the first installment in a duology, the story doesn't wrap up at the end, despite the book's length, but the overall theme of the pursuit of happiness could scarcely be stronger. Even if there were no second volume to further chart this family's peaks and valleys through the years, its genuine understanding of life would make it a stirring success.
An excellent story of the American dream that manages a remarkable combination of breadth and depth.
Read more