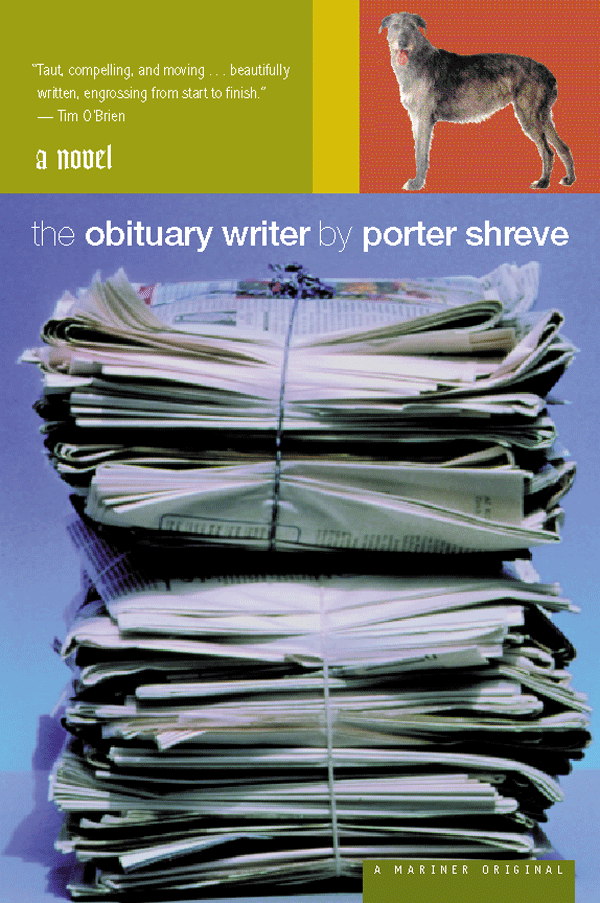 Shreve, Porter. The Obituary Writer. Houghton Mifflin Harcourt, 2000. Print.
From Houghton Mifflin Harcourt:
Gordie Hatch is twenty-two, charmingly naive, and certain that his first job as a writer for the ST LOUIS INDEPENDENT'S obituary page will be a stepping stone to a crackerjack career in journalism. The year is 1989, and Gordie watches helplessly while dramatic events — the very events that could be his lucky break — unfold in the world around him. But nothing can prepare him for the call he gets from Alicia Whiting, a young widow with an accent he can't quite place. When Gordie agrees to meet Alicia, against his better judgment, his journalistic curiosity quickly turns into an obsessive search for the outrageous truth behind the Whiting family. Shot through with affectionate humor and surprising twists and turns, THE OBITUARY WRITER introduces an author of enormous talent and heart. Porter Shreve brings a deft touch to the moments that mark a young person's entrance into the world, and a sharp eye to the ways in which the lead story can be wonderfully, seductively misleading.
Read more