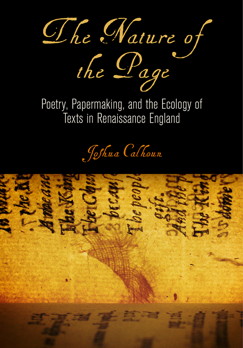 Calhoun, Joshua. The Nature of the Page Poetry, Papermaking, and the Ecology of Texts in Renaissance England. University of Pennsylvania Press, 2020. Print.
In The Nature of the Page, Joshua Calhoun tells the story of handmade paper in Renaissance England and beyond. For most of the history of printing, paper was made primarily from recycled rags, so this is a story about using old clothes to tell new stories, about plants used to make clothes, and about plants that frustrated papermakers' best attempts to replace scarce natural resources with abundant ones. Because plants, like humans, are susceptible to the ravages of time, it is also a story of corruption and the hope that we can preserve the things we love from decay.
Combining environmental and bibliographical research with deft literary analysis, Calhoun reveals how much we have left to discover in familiar texts. He describes the transformation of plant material into a sheet of paper, details how ecological availability or scarcity influenced literary output in the sixteenth and seventeenth centuries, and examines the impact of the various colors and qualities of paper on early modern reading practices. Through a discussion of sizing—the mixture used to coat the surface of paper so that ink would not blot into its fibers—he reveals a surprising textual interaction between animals and readers. He shows how we might read an indistinct stain on the page of an early modern book to better understand the mixed media surfaces on which readers, writers, and printers recorded and revised history. Lastly, Calhoun considers how early modern writers imagined paper decay and how modern scholars grapple with biodeterioration today.
Exploring the poetic interplay between human ideas and the plant, animal, and mineral forms through which they are mediated, The Nature of the Page prompts readers to reconsider the role of the natural world in everything from old books to new smartphones.
Read more