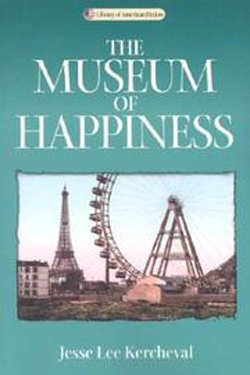 Kercheval, Jesse Lee. The Museum of Happiness. University of Wisconsin Press, 2003. Print.
Ginny Gillespie is a young widow who has fled Florida with her husband's ashes in her suitcase. Roland Keppi is a half-Alsatian, half-German carnival worker in search of a vision. They meet in Paris in 1929 and fall in love under a cloud of sparrows, but are soon separated when Roland is deported. Moving back and forth between Ginny and Roland, past and present, The Museum of Happiness follows the paths that bring them together in Paris, and the journeys that reunite them in a town where happiness has a shrine of its own.
Along the way, we meet an eccentric array of characters whose fates are all somehow connected to those of Ginny and Roland: Roland's grandmother Odile, a visionary like him whose final revenge on their superstitious hometown is forgiveness; Ginny's landlady, the indomitable Madame Desnos, who finds herself evicted from her own hotel; Ginny's mother, a doctor whose religion has led her away from humanity; and a crew of filmmakers out to document the entire world.
Starting with Roland's birth just before World War I and ending with the invention of television, The Museum of Happiness ranges from small-town Florida to a bizarre German detention camp, from the Parisian underworld to a place in the south of France where lace is the only industry. Exploring the conflicts between nationality and identity, family and freedom, fate and choice, The Museum of Happiness is a romantic and compelling novel with a gloriously happy ending.
Read more