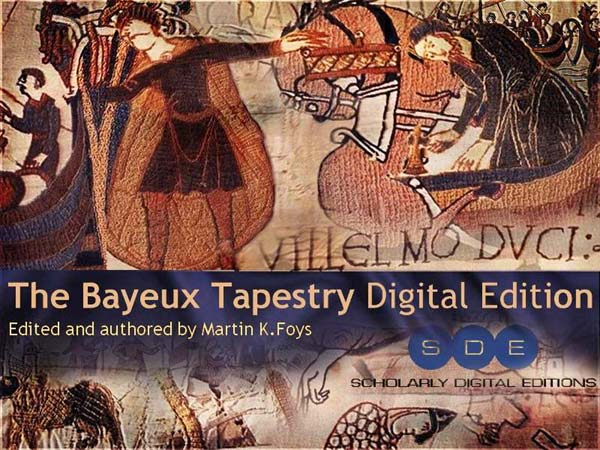 Foys, M. The Digital Edition of the Bayeux Tapestry. Boydell & Brewer/SDE, 2003.
Choice Outstanding Academic Title
International Society of Anglo-Saxonists [ISAS] Best Edition Publication Prize
"The Bayeux Tapestry presents its story of the Norman Conquest of England in words of such simplicity and images of such power that it has long determined the view we take of the momentous events of 1064-6. This digital edition creates new and exciting ways of viewing the Tapestry, with additional features in the form of a brilliantly-conceived array of supporting material. It transforms the way in which students and teachers alike will be able to approach, to use and to enjoy one of the most remarkable of all our sources for the middle ages." – Simon Keynes, Elrington and Bosworth Professor of Anglo-Saxon, University of Cambridge.
This online edition presents full images of the tapestry itself, magnifiable so that individual stitches can be seen, with images of three facsimiles, and of many related artifacts. They are accompanied by authoritative translations of seventeen historical sources concerning the events of 1066, maps, genealogies, bibliography, and full commentary, in an attractive interface. Read More
Read more