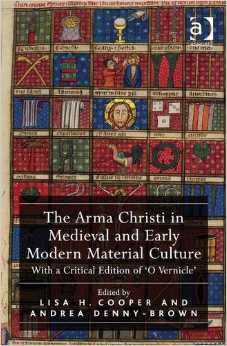 Cooper (Editor), Lisa H., and Andrea Denny-Brown (Editor)."The Arma Christi in Medieval and Early Modern Material Culture." 2014: n. pag. Print.
This collection displays the fascinating range of intellectual possibilities generated by representations of these medieval 'objects,' and through the interdisciplinary collaboration of its contributors produces a fresh view of the multiple intersections of the spiritual and the material in the Middle Ages and Renaissance. It also includes a new and authoritative critical edition of the Middle English Arma Christi poem known as 'O Vernicle' that takes account of all twenty surviving manuscripts.
The book opens with a substantial introduction that surveys previous scholarship and situates the Arma in their historical and aesthetic contexts. The ten essays that follow explore representative examples of the instruments of the Passion across a broad swath of history, from some of their earliest formulations in late antiquity to their reformulations in early modern Europe. Together, they offer the first large-scale attempt to understand the arma Christi as a unique cultural phenomenon of its own, one that resonated across centuries in multiple languages, genres, and media. The collection directs particular attention to this array of implements as an example of the potency afforded material objects in medieval and early modern culture, from the glittering nails of the Old English poem Elene to the coins of the Middle English poem 'Sir Penny,' from garments and dice on Irish tomb sculptures to lanterns and ladders in Hieronymus Bosch's panel painting of St. Christopher, and from the altar of the Sistine Chapel to the printed prayer books of the reformation.
Read more