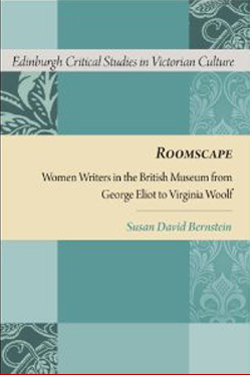 Bernstein, Susan David. Roomscape: Women Writers in the British Museum from George Eliot to Virginia Woolf. Edinburgh University Press, 2013. Print.
Drawing on archival materials around this national library reading room, Roomscape is the first study that integrates documentary, theoretical, historical, and literary sources to examine the significance of this public interior space for women writers and their treatment of reading and writing spaces in literary texts. This book challenges an assessment of the Reading Room of the British Museum as a bastion of class and gender privilege, an image firmly established by Virginia Woolf's 1929 A Room of One's Own and the legions of feminist scholarship that upholds this spatial conceit.
Susan David Bernstein argues not only that the British Museum Reading Room facilitated various practices of women's literary traditions, she also questions the overdetermined value of privacy and autonomy in constructions of female authorship, a principle generated from Woolf's feminist manifesto. Rather than viewing reading and writing as solitary, individual events, Roomscape considers the meaning of exteriority and the public and social and gendered dimensions of literary production.
Read more