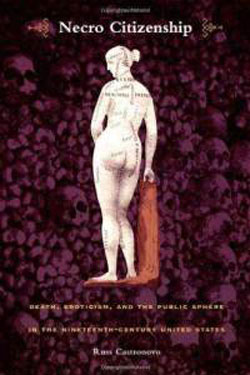 Castronovo, Russ."Necro Citizenship: Death, Eroticism, and the Public Sphere in the Nineteenth-Century United States." 2001: n. pag. Print.
In Necro Citizenship Russ Castronovo argues that the meaning of citizenship in the United States during the nineteenth century was bound to – and even dependent on – death. Deploying an impressive range of literary and cultural texts, Castronovo interrogates an American public sphere that fetishized death as a crucial point of political identification. This morbid politics idealized disembodiment over embodiment, spiritual conditions over material ones, amnesia over history, and passivity over engagement.
Moving from medical engravings, séances, and clairvoyant communication to Supreme Court decisions, popular literature, and physiological tracts, Necro Citizenship explores how rituals of inclusion and belonging have generated alienation and dispossession. Castronovo contends that citizenship does violence to bodies, especially those of blacks, women, and workers. "Necro ideology," he argues, supplied citizens with the means to think about slavery, economic powerlessness, or social injustice as eternal questions, beyond the scope of politics or critique. By obsessing on sleepwalkers, drowned women, and other corpses, necro ideology fostered a collective demand for an abstract even antidemocratic sense of freedom. Examining issues involving the occult, white sexuality, ghosts, and suicide in conjunction with readings of Harriet Jacobs, Ralph Waldo Emerson, Frederick Douglass, Nathaniel Hawthorne, and Frances Harper, Necro Citizenship successfully demonstrates why Patrick Henry's "give me liberty or give me death" has resonated so strongly in the American imagination. Those working in the fields of American studies, literature, history, and political theory will be interested in the social revelations and cultural connections found in Necro Citizenship.
Read more