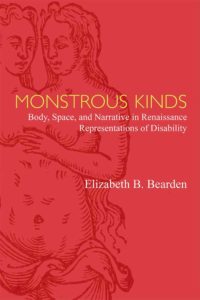 Bearden, Elizabeth B."Monstrous Kinds: Body, Space, and Narrative in Renaissance Representations of Disability." 2019: n. pag. Print.
Corporealities: Discourses of Disability series, Ann Arbor: U of Michigan P, 2019. ISBN: 978-0-472-13112-9
Winner of the Tobin Siebers Prize for Disability Studies in the Humanities.
This project examines disability in the Renaissance in conduct books and treatises, travel writing, and wonder books. The cross-section of texts is comparative, putting canonical European authors such as Castiglione into dialogue with transatlantic and Anglo-Ottoman literary exchange. Its methodology takes a formal and philosophical approach to pre-modern formulations of monstrous bodies, spaces, and narratives, which continue to shape our understandings of disability today. Bearden's work discerns the norming of early modern bodies in the discourse of the ideal and the natural, and it discovers alternative representations of embodiment that allow for variation and vulnerability. It overturns the assumption that "monstrosity" was relegated to the margins of the world from antiquity to the Renaissance, and it questions grand narratives propounding a progression of disability from supernatural marvel to medical specimen. I contend that these categories coexist and intersect, and that we can better understand early modern productions of disability by attending to the rich variety of monstrous bodies, spaces, and narratives that populate Renaissance texts.
Read more