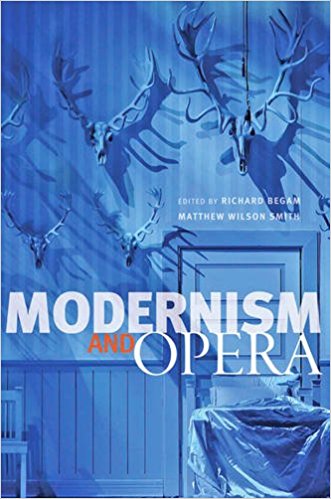 Begam (Editor), Richard, and Matthew Wilson Smith (Editor). Modernism and Opera. Johns Hopkins University Press, 2016. Print.
At first glance, modernism and opera may seem like strange bedfellows—the former hostile to sentiment, the latter wearing its heart on its sleeve. And yet these apparent opposites attract: many operas are aesthetically avant-garde, politically subversive, and socially transgressive. From the proto-modernist strains of Richard Wagner's Parsifal through the twenty-first-century modernism of Kaija Saariaho's L'amour de loin, the duet between modernism and opera, at turns harmonious and dissonant, has been one of the central artistic events of modernity. Despite this centrality, scholars of modernist literature only rarely venture into opera, and music scholars generally return the favor by leaving literature to one side. But opera, that grand cauldron of the arts, demands that scholars, too, share the stage with one another.
In Modernism and Opera, Richard Begam and Matthew Wilson Smith bring together musicologists, literary critics, and theater scholars for the first time in a mutual endeavor to trace certain key moments in the history of modernism and opera. This innovative volume includes essays from some of the most notable scholars in their fields and covers works as diverse as Debussy's Pelléas et Mélisande, Bartók's Bluebeard's Castle, Berg's Wozzeck, Janáček'sMakropulos Case, Thomson's Four Saints in Three Acts, Strauss'sArabella, Schoenberg's Moses und Aron, Stravinsky's The Rake's Progress, Britten's Gloriana, and Messiaen's Saint François d'Assise.
A collaborative study of the ultimate collaborative art form,Modernism and Opera reveals how modernism and opera illuminate each other and, more generally, the culture of the twentieth century. It also addresses a number of issues crucial for understanding the relation between modernism and opera, focusing in particular on intermediality (how modernism integrates music, literature, and drama into opera) and anti-theatricality (how opera responds to modernism's apparent antipathy to theatricality). This captivating book—the first of its kind—will appeal to scholars of literature, music, theater, and modernity as well as to sophisticated opera lovers everywhere.
Read more