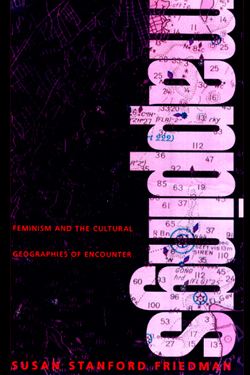 Friedman (1943-2023) Susan Stanford. Mappings: Feminism and the Cultural Geographies of Encounter. Princeton University Press, 1998. Print.
In this powerful work, Susan Friedman moves feminist theory out of paralyzing debates about us and them, white and other, first and third world, and victimizers and victims. Throughout, Friedman adapts current cultural theory from global and transnational studies, anthropology, and geography to challenge modes of thought that exaggerate the boundaries of gender, race, ethnicity, sexuality, class, and national origin. The author promotes a transnational and heterogeneous feminism, which, she maintains, can replace the proliferation of feminisms based on difference. She argues for a feminist geopolitical literacy that goes beyond fundamentalist identity politics and absolutist poststructuralist theory, and she continually focuses the reader's attention on those locations where differences are negotiated and transformed.
Pervading the book is a concern with narrative: the way stories and cultural narratives serve as a primary mode of thinking about the politically explosive question of identity. Drawing freely on modernist novels, contemporary film, popular fiction, poetry, and mass media, the work features narratives of such writers and filmmakers as Gish Jen, Julie Dash, June Jordon, James Joyce, Gloria Anzalda, Neil Jordon, Virginia Woolf, Mira Nair, Zora Neale Hurston, E. M. Forster, and Irena Klepfisz.
Defending the pioneering role of academic feminists in the knowledge revolution, this work draws on a wide variety of twentieth-century cultural expressions to address theoretical issues in postmodern feminism.
Read more