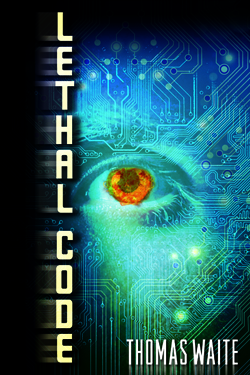 , Thomas Waite."Lethal Code." 2014: n. pag. Print.
America's worst nightmare has come true: a "cyber–Pearl Harbor" attack by unknown terrorists has crippled the nation's power grid—and brought the land of the free to its knees. As widespread panic and violence ravage the country, its ruthless captors issue their ultimatums…and vow an apocalyptic reckoning.
A defenseless nation scrambles to fight an invisible invasion. Chief among America's last line of defense is Lana Elkins, head of a major cyber-security company—and former top NSA operative—who returns to her roots to spearhead the Agency's frantic efforts to combat the enemy's onslaught on its own terms. While she and her superiors take action to infiltrate a terrorist hotbed overseas, much closer to home ruthless jihadists with a nuclear bomb hijack a busload of schoolchildren—including Lana's daughter—and race toward a rendezvous with Armageddon in America's greatest city.
With Lethal Code, Thomas Waite raises the international techno-thriller to dangerously exciting levels—introducing a valiant new action heroine, and initiating a series that brings a harrowing new edge of realism to sensational speculative fiction.
Read more