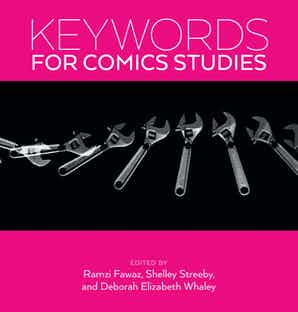 Fawaz (Co-editor), Ramzi. Keywords for Comics Studies. NYU Press, 2021. Print.
Across more than fifty original essays, Keywords for Comics Studies provides a rich, interdisciplinary vocabulary for comics and sequential art. The essays also identify new avenues of research into one of the most popular and diverse visual media of the twentieth and twenty-first centuries. Keywords for Comics Studies presents an array of inventive analyses of terms central to the study of comics and sequential art that are traditionally siloed in distinct lexicons: these include creative and aesthetic terms like Ink, Creator, Border, and Panel; conceptual terms such as Trans*, Disability, Universe, and Fantasy; genre terms like Zine, Pornography, Superhero, and Manga; and canonical terms like X-Men, Archie, Watchmen, and Love and Rockets.
This volume ties each specific comic studies keyword to the larger context of the term within the humanities. Essays demonstrate how scholars, cultural critics, and comics artists from a range of fields take up sequential art as both an object of analysis and a medium for developing new theories about embodiment, identity, literacy, audience reception, genre, cultural politics, and more. Keywords for Comics Studies revivifies the fantasy and magic of reading comics in its kaleidoscopic view of the field's most compelling and imaginative ideas.
Read more