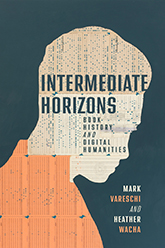 Vareschi (Co-editor), Mark. Intermediate Horizons: Book History and Digital Humanities. University of Wisconsin Press , 2022. Print.
This innovative collection examines how book history and digital humanities (DH) practices are integrated through approach, access, and assessment. Eight essays by rising and senior scholars practicing in multiple fields—including librarians, literature scholars, digital humanists, and historians—consider and reimagine the interconnected futures and horizons at the intersections of texts, technology, and culture and argue for a return to a more representative and human study of the humanities.
Integrating intermedial practices and assessments, the editors and contributors explore issues surrounding the access to and materiality of digitized materials, and the challenge of balancing preservation of traditional archival materials with access. They offer an assessment in our present moment of the early visions of book history and DH projects. In revisiting these projects, they ask us to shift our thinking on the promises and perils of archival and creative work in different media. Taken together, this volume reconsiders the historical intersections of book history and DH and charts a path for future scholarship across disciplinary boundaries.
Read more