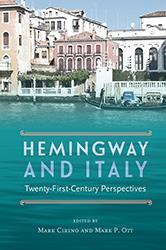 Ott (Co-editor), Mark P., and Mark Cirino (Co-editor)."Hemingway and Italy: Twenty-First-Century Perspectives." 2017: n. pag. Print.
From his World War I service in Italy through his transformational return visits during the decades that followed, Ernest Hemingway's Italian experiences were fundamental to his artistic development. Hemingway and Italy offers essays from top scholars, exciting new voices, and people who knew Hemingway during his Italian days, examining how his adopted homeland shaped his writing and his legacy.
The collection addresses Hemingway's many Italys—the terrain and people he encountered during his life and the country he transposed into his fiction. Contributors analyze Hemingway's Italian works, including A Farewell to Arms, Across the River and into the Trees, lesser-known short stories, fables, and even a previously unpublished Hemingway sketch, "Torcello Piece." The essays provide fresh insights on Hemingway's Italian life, career, and imagination.
Read more