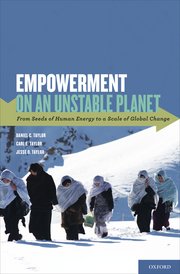 , Jesse O. Taylor, with Daniel C. Taylor and Carl E. Taylor."Empowerment on an Unstable Planet: From Seeds of Human Energy to a Scale of Global Change." 2011: n. pag. Print.
Explores how development and conservation are related to complexity theory and the concepts of emergence.
Frames a process in which change efforts can be taken to scale, both in scope of action and in rising sophistication.
Read more