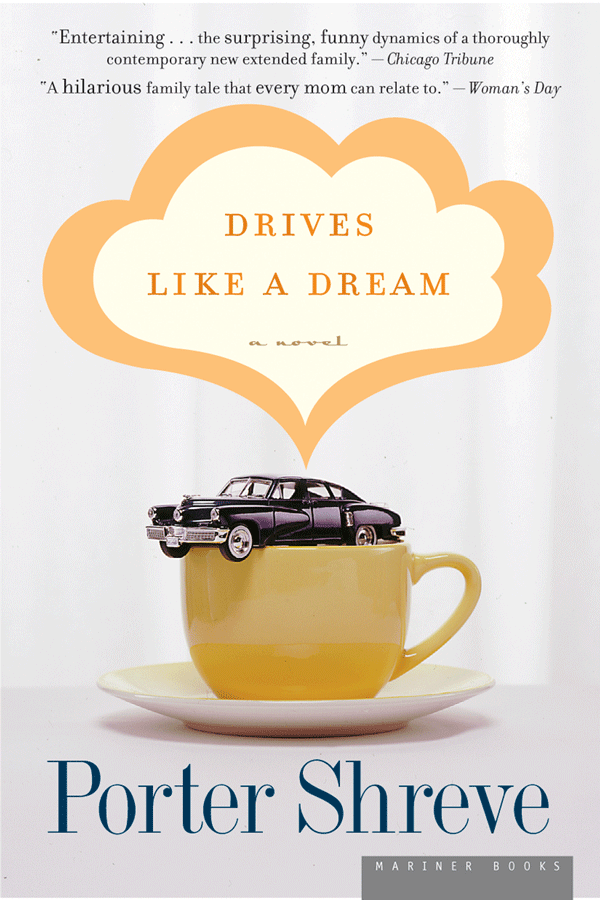 Shreve, Porter. Drives Like A Dream. Houghton Mifflin Harcourt, 2006. Print.
From Houghton Mifflin Harcourt:
The New York Times called Porter Shreve's first novel, The Obituary Writer, "an involving and sneakily touching story whose twists feel less like the conventions of a genre than the convolutions of a heart—any heart." Newsday hailed the book as "a substantial achievement," and Tim O'Brien described it as "taut, compelling, and moving . . . beautifully written, engrossing from start to finish." Shining with the same heart and humor, Shreve's second novel, Drives Like a Dream, is a smart, wry tale about a modern-day mother in the midst of a lifestyle crisis—and her outlandish attempts to get her family back.
Lydia Modine is sixty-one and about to come undone. Her three grown-up children have flown the coop. She hasn't seen them together in more than a year, and now her ex-husband is about to remarry a woman half his age. And the insults keep coming: Lydia is stuck on a book she's writing about Detroit's car industry, which uncannily parallels her own life — out with the old model, in with the new. She's poured her soul into her family, only to be abandoned in the City of Dream Machines. But then a twist of fate introduces her to Norm, an eco-car fanatic out to remake her and the world. Is he the answer to all of her problems, or does he hold the one secret that just might get her children back to Detroit, home for good?
A warm, funny, and affecting novel that's sure to appeal to anyone who has longed for an alternate life, Drives Like a Dream confirms that sometimes when you set out for a spin, the twists and turns can be perfectly rewarding—and right.
Read more