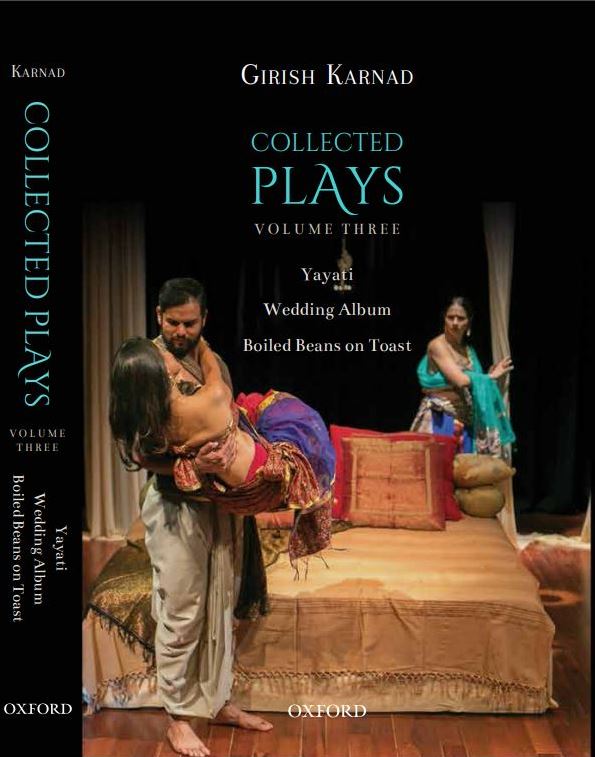 Dharwadker, Aparna. Collected Plays of Girish Karnad Vol. 3. Oxford University Press: N.p., 2020. Print.
The tale of a mythic king's aggression against his offspring, and his desperation to escape the curse of old age laid upon him in the prime of life. The anxieties that torment a middle-class family as their daughter awaits the arrival of the 'suitable boy' from abroad whom she has never met. The morphing of the city of Bangalore, whose founding myth celebrates its human ambience, into India's 'Silicon Valley' where strangers are thrown together, get entangled, and are violently pulled apart. This volume contains the very first play, as well as the two most recent works, by Girish Karnad, one of India's pre-eminent contemporary playwrights.
The three-volume set of Karnad's Collected Plays brings together English versions of his important works. Each volume contains an extensive introduction by theatre scholar Aparna Bhargava Dharwadker, Professor of English and Interdisciplinary Theatre Studies, University of Wisconsin–Madison, Wisconsin. The introductions trace the literary and theatrical evolution of Karnad's work over six decades and position it in the larger context of modern Indian drama. In addition, they comment on Karnad's place as author and translator in a multilingual performance culture, the relation of his playwriting to his work in the popular media, and his and his larger-than-life presence as an engaged intellectual in the Indian public sphere.
Each of these volumes serves as a collector's item, making Karnad's works accessible to theatre lovers worldwide.
Read more
Document