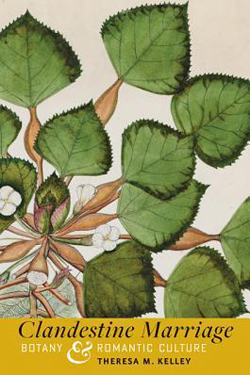 Kelley (Editor), Theresa. Clandestine Marriage: Botany and Romantic Culture. The Johns Hopkins University Press, 2012. Print.
Romanticism was a cultural and intellectual movement characterized by discovery, revolution, and the poetic as well as by the philosophical relationship between people and nature. Botany sits at the intersection where romantic scientific and literary discourses meet. Clandestine Marriage explores the meaning and methods of how plants were represented and reproduced in scientific, literary, artistic, and material cultures of the period.
Theresa M. Kelley synthesizes romantic debates about taxonomy and morphology, the contemporary interest in books and magazines devoted to plant study and images, and writings by such authors as Mary Wollstonecraft and Anna Letitia Barbauld. Period botanical paintings of flowers are reproduced in vibrant color, bringing her argument and the romantics' passion for plants to life.
In addition to exploring botanic thought and practice in the context of British romanticism, Kelley also looks to the German philosophical traditions of Kant, Hegel, and Goethe and to Charles Darwin's reflections on orchids and plant pollination. Her interdisciplinary approach allows a deeper understanding of a time when exploration of the natural world was a culture-wide enchantment.
"Richly documented and deeply researched, Clandestine Marriage displays a wide conversancy with literary criticism and the history of science, recognizing the ways in which the meaning of plants regularly exceeds or disrupts the conceptual categories in which they are placed or found."—Alan John Bewell, University of Toronto
Read more