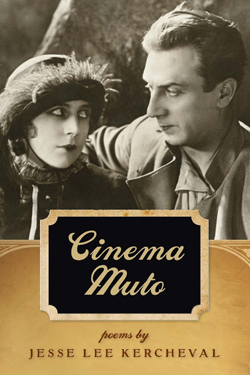 Kercheval, Jesse Lee. Cinema Muto. Southern Indiana University Press, 2009. Print.
Crab Orchard Open Selection Award Winner
In ….i, Jesse Lee Kercheval examines the enduring themes of time, mortality, and love as revealed through the power of silent film. Following the ten days of the annual Le Giornate del Cinema Muto in Italy, this collection of ekphrastic poems are love letters to the evocative power of silent cinema. Kercheval's poems elegantly capture the allure of these rare films, which compel hundreds of pilgrims from around the world—from scholars and archivists, to artists and connoisseurs—to flock to Italy each autumn. Cinema Muto celebrates the flickering tales of madness and adventure, drama and love, which are all too often left to decay within forgotten vaults. As reels of Mosjoukine and D. W. Griffith float throughout the collection, a portrait also emerges of the simple beauty of Italy in October and of two lovers who are drawn together by their mutual passion for an extinct art. Together they revel in recapturing "the black and white gestures of a lost world."
Cinema Muto is a tender tribute to the brief yet unforgettable reign of silent film. Brimming with stirring images of dreams, desire, and the ghosts of cinema legends gone by, Kercheval's verse is a testament to the mute beauty and timeless lessons that may still be discovered in a fragile roll of celluloid.
Read more