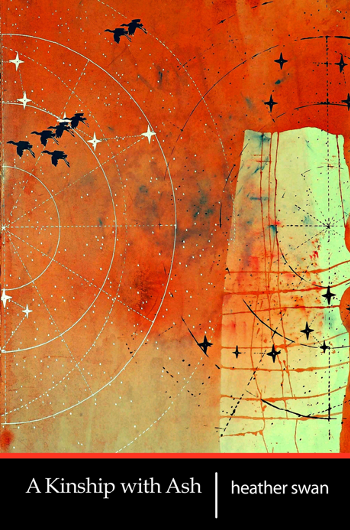 Swan, Heather. A Kinship With Ash. West Caldwell, New Jersey: Terrapin Books, 2020. Print.
Heather Swan is a poet, nonfiction writer, and teacher. Her chapbook The Edge of Damage won the Wisconsin Fellowship of Poets Award. Her poetry has appeared in journals such as Poet Lore, Cold Mountain Review, Phoebe, The Raleigh Review, and Midwestern Gothic. Her nonfiction has appeared in Aeon, Belt Magazine, Catapult, Edge Effects, ISLE, and Minding Nature. Her book Where Honeybees Thrive: Stories from the Field won the Sigurd F. Olson Nature Writing Award. She has been the recipient of an Illinois Arts Council Poetry Fellowship Award, the Martha Meier Renk Fellowship, and the August Derleth Award for Poetry. She teaches writing and environmental literature at the University of Wisconsin-Madison, and she is also a beekeeper. A Kinship with Ash is her debut full-length collection.
It's difficult to accept that shadows, too, are products of the natural world. Often we hold what's beautiful next to what we fear. As much as we want to appeal to our better angels, cruelty hovers and haunts our hearts. In Heather Swan's A Kinship with Ash, wisdom is hard won. Elegant, image rich, and full of birdsong, these poems question and delight. But what is poetry if not the mind's silhouette? In the pastoral tradition we confront our reflection, and here, Swan uses nature to look inward. As if negotiating the cliff's edge, or wading into open water, her speakers are at the mercy of currents. We are left with faith. Reading these poems is an act of surveying light.
            —Amaud Jamaul Johnson