Speaker Series: Rachel Carroll, Leigh Elion, Rachel Herzl-Betz (Teaching Forum)
May 1, 2019 @ 3:30 pm

-

4:30 pm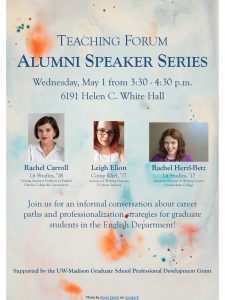 The Teaching Forum is holding its second alumni speaker series event on May 1st from 3:30 – 4:30 pm in HCW room 6191. The speakers will be Rachel Carroll (Visiting Assistant Professor of English at Oberlin College & Conservatory, Lit Studies '18), Leigh Elion (Lecturer, UC-Santa Barbara's Writing Program, Comp Rhet '17), and Rachel Herzl-Betz (Assistant Director of Writing Center Nevada State College, Lit Studies '17).
These speakers will join us via Skype to discuss their experiences with teaching at different institutions, preparing teaching portfolios for the job market, translating teaching experience into alt-ac careers, and other aspects of career development.
Please RSVP at this link. We hope to see you there, and let me know if you have any questions.
Speakers' bios below:
Leigh Elion is currently a full-time, career-track lecturer in the Writing Program at UC-Santa Barbara, where she teaches advanced undergraduate courses in public discourse, multimedia writing, and community writing, as well as first-year composition. Starting this fall, however, she'll move to a new position as Lecturer in English and Director of the Writing Center at Emory University's Oxford College.
Rachel Herzl-Betz is the Assistant Director of the Writing Center and an instructor in the English Department at Nevada State College. She's currently researching the choices in recruitment and practice that allow historically marginalized students to feel welcome as potential Writing Center tutors.
Rachel Carroll is a Visiting Assistant Professor in English at Oberlin College. She teaches courses in multi-ethnic American literature, queer studies, and the avant-garde. She is currently working on a book on race and experimentalism in 20th-century American literature and visual culture.