Public Lecture: Cáel Keegan, "Bound Together: The Sensorial Life of Trans* Media Forms"
March 7, 2019 @ 4:00 pm

-

5:00 pm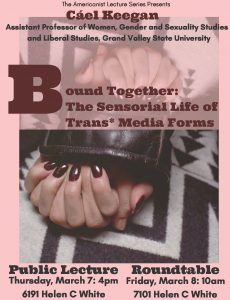 Queer media studies scholarship focusing on transgender identity has been primarily concerned with the quality of representation: a politically necessary but narrow focus that fixes the form of what might be considered "transgender" media. Such positivist approaches often treat transgender people as if we pre-exist our mediated significations, obscuring how transgender identities might themselves be generated through aesthetic encounter. Drawing on emergent methods from trans* studies, this talk revisits the Wachowski sisters' debut film, 
Bound
 (1996), to explore how media texts may become trans* through their formal capacities to express transgender sensation. Originally perceived as an exercise in lesbian style, 
Bound
 enacts a sensorial pedagogy that reveals how trans* modes of imagination have been historically enfolded with queer desire. To read 
Bound
 as a transgender text means abandoning what we think we see to sense otherwise – a trans* method that traces how media forms and transgender phenomena are bound together in a mutually constitutive sensorial life.
---
Cáel Keegan is Assistant Professor of Women, Gender, and Sexuality Studies and Liberal Studies at Grand Valley State University. He is the author of Lana and Lilly Wachowski: Sensing Transgender (University of Illinois Press, 2018) and co-editor of Somatechnics 8.1: "Cinematic Bodies." His writing also appears in Queer Studies in Media and Popular Culture, Mediekultur, Genders, Transgender Studies Quarterly, Journal of Homosexuality, and Spectator 37.2: "Transgender Media." Dr Keegan is the Secretary of the Queer Caucus of the Society for Cinema and Media Studies.